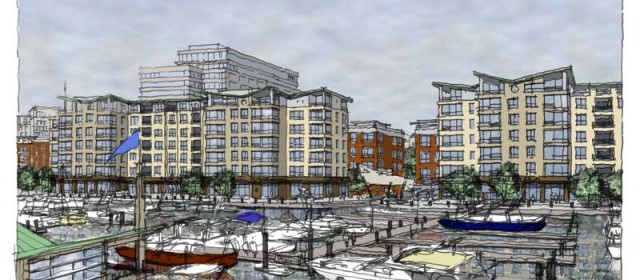 Northern Riverfront Marina and Hotel Limited Liability Limited Partnership ("NRMH") is commencing a new project on the Cape Fear River in downtown Wilmington, North Carolina. The project site is located within a Targeted Employment Area ("TEA") pursuant to the EB-5 program regulations. As such, foreign investors in NRMH may qualify under the EB-5 program with a minimum capital investment of $500,000 per investor. TEA evidence is provided in the Offering Circular and will be submitted with the I-526 petition of each investor.
The first component is the construction of a new full-service marina along the Cape Fear River in historic downtown Wilmington. The site is 11.75 acres +/- and will have up to 204 slips ranging in size from 35 to 100 feet. The marina portion of the project encompasses a 14' wide River Walk, several kiosk retail shops on the existing concrete docking facility, as well as a diesel fuel depot and parking.
Marina construction is expected to take 7 months for excavation and an additional 4 to 6 months to complete the first phase of slips. The engineering and construction drawings are complete. Bids for construction are finalized. Permits for dredging, demolition and construction have all been secured with all local, state and federal agencies. The developer has been released for construction by required governmental agencies. Final agreements have been executed and recorded between the Developer and the City of Wilmington to share the cost of the marina's bulkhead, as well as reimbursement of construction costs for a River Walk connecting the property to the City's new convention center and the historic downtown district to the south.
The marina will be operated by a full time professional staff. Initial operations of the marina will produce income from transient rental and short term leases. Marina income will be further enhanced by fuel and retail sales. The General Partner will maintain a leasing program until investors have received their permanent green card, with the priority during this period being preservation of capital and maximizing profit to the Limited Partnership. Return of investment capital shall be achieved through sales of marina slips, or by selling the entire marina asset, once income stabilization and EB-5 program requirements have been met.
The second component of the NRMH project is the construction and operation of a hotel, located on a 1.26 acre site, adjacent to the marina and the City of Wilmington's new Convention Center. The 105,000 square foot Wilmington Convention Center was completed and opened for business in November of 2010. The NRMH hotel will be located diagonally across the street from the Wilmington Convention Center, providing convenient, easy access to all convention business. The hotel will include 136 rooms, hotel amenities, and an additional 35,000 square feet of retail space, (to include dining and family entertainment components) and parking. The hotel will host a well-known and respected brand-name flag and provide quality service and hospitality at competitive rates.
Hotel construction is expected to take approximately 17-20 months. The anticipated schedule is 5 months to complete final engineering, approval, and permitting. Actual construction is anticipated to take an additional 12-15 months. Income for the completed projected is expected to be stabilized in 3-5 years.
The General Partner estimates the total cost of the Project to be Forty-One Million Five Hundred Fifty Thousand US Dollars (US$41,550,000), consisting of Nine Million US Dollars (US$9,000,000) from direct developer investment and Five Million and Fifty Thousand US Dollars (US$5,050,000) from City Contribution. The remaining Twenty-Seven Million Five Hundred Thousand US Dollars (US$27,500,000) is being raised in accordance with terms of the Offering Circular and Subscription Agreement, and includes Seventeen Million Five Hundred Thousand US Dollars (US$17,500,000) in EB-5 capital and Ten Million US Dollars (US$10,000,000) in debt.