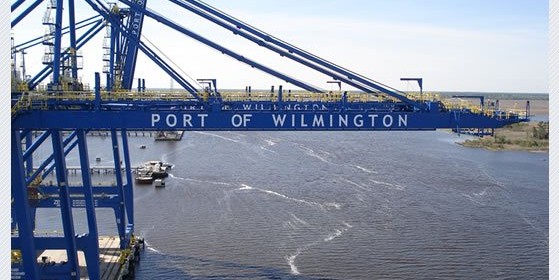 USA InvestCo formed a partnership with the State of North Carolina to build the first and only cold storage facility on the Port of Wilmington in North Carolina. Through collaboration with the North Carolina State Port Authority, the Department of Transportation, Department of Agriculture and local government agencies, USA InvestCo is embarking on this industrious project to capitalize on North Carolina's need for a cold storage facility on the Port.  The official leasing agreement with the State and promotion agenda was publically released February 4, 2013.
Wilmington, North Carolina is a flourishing port city, designated as a foreign trade zone. The Port of Wilmington is a major hub for global exportation of refrigerated pork and poultry products. However, the Port of Wilmington does not currently have a cold storage facility.  A cold storage facility is a refrigerated warehouse facility used to maintain a specific temperature for the storage of harvested and perishable goods. Cold storage facilities allow companies to distribute their inventory locally, nationally, and globally.
North Carolina's $70 billion agriculture industry relies heavily on transporting goods and keeping items properly stored during the transportation process. Many of the exported products require refrigeration to remain fresh and to maximize their value. Perishable food items requiring refrigeration and a climate-controlled environment are kept in a cold storage facility. Because the Port of Wilmington, North Carolina does not have a cold storage facility, exporters of perishable goods are forced to use other ports that have a cold storage facility onsite (currently in other states only). The absence of a cold storage facility on the Port of Wilmington is a wonderful opportunity for USA InvestCo to construct the Port of Wilmington Cold Storage.
The State of North Carolina longed for a cold storage facility on the Port of Wilmington for many years due to the convenient location and close proximity to a number of large agriculture producing companies. Constructing the Port of Wilmington Cold Storage Facility will offer convenience, logistical support, expandable storage, will reduce spoilage, expedite delivery time, and allow companies to save a substantial amount on transportation costs.
North Carolina is already a major producer and exporter of turkey, poultry, pork and sweet potatoes, and will see continual growth in these industries. Based on present industry demand and future growth, USA InvestCo's EB-5 project will provide North Carolina the opportunity to be a more competitive player in the global market, and create a potential return on investment.
USA InvestCo is a real estate development company in Wilmington, North Carolina that specializes in providing investors with attractive and diverse investment opportunities in real estate, existing business acquisitions, and distressed debt markets. Their real estate professionals have 80+ years of combined expertise in both capital and real estate market management, with a demonstrated track record in acquisition, entitlement, development, management, and sales. USA InvestCo identifies, analyzes and acquires investment projects that have a significant upside potential.
North Carolina (NC) is the fastest-growing state in the Eastern United States with a population of almost 10 million, is the 10th most populous state, and spans 48,617 square miles. North Carolina is centrally located on the East Coast of the United States, midway between New York City and Miami.
USA InvestCo and the Atlantic Regional Center for Foreign Investment (ARCFI) are offering 30 EB-5 investor positions to invest in the Port of Wilmington Cold Storage Facility EB-5 Project. Investors in an EB-5 project have the opportunity to invest in a U.S. project, and receive green cards for their immediate family, including all unmarried children under the age of 21, to legally live in the United States.